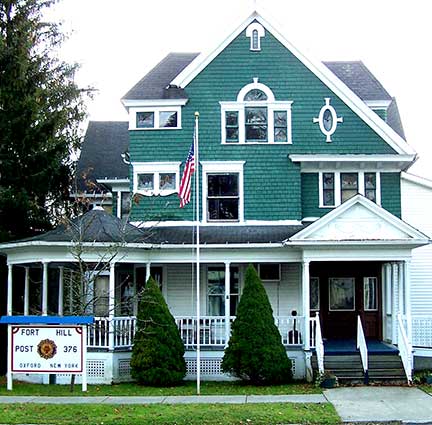 After the end of World War I, a group of sixteen veterans in Oxford, NY, decided to start their own chapter of the American Legion, the Fort Hill American Legion Post No. 376. They were granted their charter on September 30, 1919, shortly after the national American Legion was chartered and incorporated by Congress on March 19, 1919. They named it Fort Hill after a nearby historic area in the Village of Oxford said to have been built by Native Americans of the Tuscarora Nation which was one of the oldest fortifications in the east. This was the start of Post 376, a long enduring patriotic veterans organization devoted to mutual helpfulness.
The Sunday Legion Breakfast is Back!
The Fort Hill American Legion Post 376 has re-opened their famous Sunday Community Breakfast! A trial breakfast on September 13 went smoothly; the breakfast tradition will continue, but not without help. (Please note there are restrictions on seating and operation, due to the ongoing pandemic. Please contact us to ask for more information on that.)
Post 376 Commander Darlene Ardron greeted the guests in full uniform, to show her support and to make sure things went smoothly. She was pleased with the outcome and happy to announce that the Sunday Breakfast "with great food and good people" is back, 7:30 – 11 a.m., however, they are short handed. The Commander implored, "We need helpers – servers, kitchen help, and cashiers; also help setting-up and taking-down tables and chairs. Please come help!"
For inquiries, volunteering, or even take-out breakfasts, call (607) 843-8166; or email amerlegion@stny.rr.com
---
From the Desk of Commander Darlene Ardron
With the holidays coming faster than we want, we are all trying to plan Thanksgiving and what it will be this year. Small groups of family and friends. Only 10 people being allowed, and trying to follow the CDC guidelines, it will be different, BUT... we will be SAFE. I hope you all enjoy your meal and your day. I am thankful for all of our members and I'm sending you many blessings!
For the good of the Red, White and Blue,
Cmdr Darlene
Today, the Oxford American Legion Fort Hill Post #376 is part of the nation's largest veterans service organization. They are a member of the Chenango County American Legion, under the Department of New York. They are committed to mentoring and sponsorship of Oxford youth, community service in Oxford, upholding patriotism and honor, promoting a strong national security, and the continuation of the care of veterans. Please peruse our website and learn about our Post, how we fufill the mission, and how you can join the Fort Hill American Legion Post 376 of Oxford, NY.
The American Legion is a nonpartisan, not-for-profit organization with great political influence perpetuated by its grass-roots involvements in the legislation process. Legionnaires' sense of obligation to their community, state and nation drives an honest advocacy for veterans in Washington. The Legion stands not behind politics, but the issues and people that institute progress by focusing on veterans rights and quality of life.