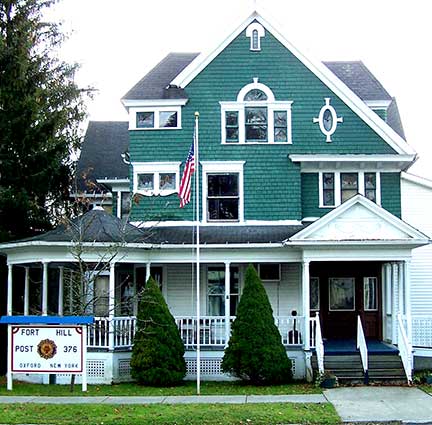 After the end of World War I, a group of sixteen veterans in Oxford, NY, decided to start their own chapter of the American Legion, the Fort Hill American Legion Post No. 376. They were granted their charter on September 30, 1919, shortly after the national American Legion was chartered and incorporated by Congress on March 19, 1919. They named it Fort Hill after a nearby historic area in the Village of Oxford said to have been built by Native Americans of the Tuscarora Nation which was one of the oldest fortifications in the east. This was the start of Post 376, a long enduring patriotic veterans organization devoted to mutual helpfulness.
Oxford American Legion Post 376 Memorial Day 2022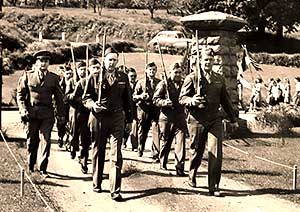 The vintage photo seen here is a reminder of an American Legion parade in Oxford, NY in 1948. It is a memory of how things were and how they could be if not for COVID and its current variants infesting our lives, continuing to cause major collateral damage to current activities. REGRETTABLY THE OXFORD MEMORIAL DAY PARADE HAS BEEN POSTPONED FOR ANOTHER YEAR (Other Oxford Memorial Day Ceremonies are listed below) American Legion Post 376 and other organizations that normally take part in Memorial Day festivities are all somewhat curtailed. Volunteerism is down - people remain worried and hesitant about rejoining local activities and being exposed to Covid in crowds. New volunteers will be needed to restart our usual events. A significant loss to the Oxford Parade is the all-time favorite High School marching band. Student participation has not yet returned. Rehearsals with close contact practice, so necessary for a parade performance, has not been possible. Hopefully the school calendar can once again include marching band programs. The Oxford Community Band is also on temporary hold.

Promote Oxford Now (PON) is an organization mostly made up of local Oxford business people that work to promote the local business community. PON helps awareness of coming events, Community Band concerts, craft shows, school events, etc. (see more here). American Legion Post 376 looks forward to working with PON in 2023.

UPDATE: News about 2022 AMERICAN LEGION BOYS STATE
During the current school year, Oxford Post 376 has been able to select 3 students from the current Junior class who will represent Oxford at the Boys State Program at Morrisville College this coming June/July. Let's all send them with our best and biggest CONGRATULATIONS.
---
From the Desk of Commander Darlene Ardron
MEMORIAL DAY 2022, Oxford, NY
May 30th, Memorial Day, is coming up very soon. It is a day of remembrance and reflecting on many wars and the men and women who gave their lives to protect our country. It is a day to be with our families, friends, having cookouts or just visiting.
This year will be a little different.
THERE WILL BE NO PARADE IN OXFORD. Covid and its lingering effects had made it impossible for the Oxford bands to gather and rehearse. Other organizations who normally also take part in the parade have had their activities curtailed as well. We, the American Legion, are sorry to deliver this bad news, but Covid and its' side effects continue to be a presence.
Our Honor Guard will be doing Honors at St. Joseph Cemetery at 7:45 AM
Oxford Main Street Bridge at 8:30 AM
Riverview Cemetery at 9:00 AM
Warn-TenBroeck Cemetery at 10:00 AM
We hope you all enjoy the day however you choose to do so. Always take time to remember the RED WHITE and BLUE and those who gave all.
God Bless You
Commander Darlene Ardron

Today, the Oxford American Legion Fort Hill Post #376 is part of the nation's largest veterans service organization. They are a member of the Chenango County American Legion, under the Department of New York. They are committed to mentoring and sponsorship of Oxford youth, community service in Oxford, upholding patriotism and honor, promoting a strong national security, and the continuation of the care of veterans. Please peruse our website and learn about our Post, how we fufill the mission, and how you can join the Fort Hill American Legion Post 376 of Oxford, NY.
The American Legion is a nonpartisan, not-for-profit organization with great political influence perpetuated by its grass-roots involvements in the legislation process. Legionnaires' sense of obligation to their community, state and nation drives an honest advocacy for veterans in Washington. The Legion stands not behind politics, but the issues and people that institute progress by focusing on veterans rights and quality of life.