---
WHO WAS JACOB PARROTT?
The Medal of Honor was created and stipulations for its use signed into law by President Abraham Lincoln in 1861, in part: "for conspicuous gallantry and intrepidity in action at the risk of life above and beyond the call of duty"
In 1862, Union army volunteers who were in northern Georgia led by James Andrews commandeered a train and headed for Chattanooga. Along the way they damaged as much confederate track, telegraph, and supplies as possible. On March 25, 1863, Secretary of War under Lincoln, Edward Stanton, awarded the first Medal of Honor to Ohio native army private Jacob Parrott, a member of the crew of Union volunteers.
In the Disney movie, "The Great Locomotive Chase" Fess Parker played James Andrews and Claude Jarman was Parrott.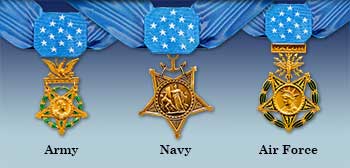 The Congressional Medal of Honor Society (http://www.cmohs.org/) was chartered by the Congress in 1958 to create a brotherhood among the living Medal of Honor recipients, to protect and uphold the dignity and honor of the Medal, to promote patriotism and love of country, and to inspire our youth to become worthy and dedicated citizens of our nation. Its membership consists exclusively of those individuals who have received the Medal of Honor. Today, there are 77 living recipients of the Medal of Honor. The Society is unique in that its membership hopes that there will be no need to welcome new inductees.