Mark your calendar! Veterans Day Nov 11
This November 11 is also the day for the dedication of the new veterans memorial walkway at the fountain in the park. This will be a good experience for the entire family, and we look forward to seeing you there at 11:00 am sharp
Oxford Post 376 will be honoring all paid up members at the annual early bird dinner. This event will be held on November 17, 2018 in the legion hall from 5 pm to 7 pm. No cost to paid members with dues paid up by November 11. Guests welcome ($15.00)
Past Events
Fort Hill Post 376 hosted a Commanders Visitation Dinner on Oct 21, 2016.
Approximately 196 Legionnaires and guests attended honoring John B. Samson, Department Commander, American Legion Department of New York Debbie Kryzkowski, Department President, American Legion Auxiliary Department of New York J.Bruce Ruthven, SAL Detachment Commander, Sons of the American Legion Detachment of New York
Besides visiting our Post, a large number of Legion people made a tour to the Veterans Home here in Oxford and were given a tour at Raymond Corp in Greene, a major local industry.
Post 376 Honor Guard attended a service on Nov 5, 2016 for Frank Pisciotta, an Oxford resident and Army veteran.
On Thursday Nov 10, 2016, a group of ex-servicemen and women will visit the Oxford Schools Morning Program. Each person will be introduced and give a brief talk about their military experience.
Nov 11, 2016, Friday, at 11:00 AM sharp there will be a Veterans Day Program at Post 376. The program for the day includes Honors Ceremony, brief speech, Taps and refreshments.
Nov 12, 2016, Saturday, there will be the Annual Early Bird Dinner at Post 376, open to current paid up members. A cocktail hour begins at 3:30. Dinner is from 4:30 until 6:00 PM. The menu consists of NY Strip steak, potatoes, salad, breads and cakes, etc. Members of Legion, SAL, Auxiliary with 2017 dues paid by Veterans Day are treated at no cost. Family, friends and others cost is $10.00
March 11 2017, Saturday morning is the next American Red Cross blood drive at Post 376.
March 17 2017, Friday , 6-10 PM will be a St. Patricks Day Dance. Fun, Irish pub fare, drink specials. Music is provided by Hugh Becker, known as Ultrasound DJ. Cover charge is $5. All proceeds to help with the Legion Building Fund expenses. Posters and fliers for this event can be seen at the Legion and places around town.
2017 Goofy Golf Tournament Saturday May 6th at the Bluestone Golf Course
Format: 4 person captain and crew
Golf starts At 10 AM
BlueStone members: $25
Non-Members: $40
Dinner and Prizes to follow at the Legion
Join us for some great laughs, golf, friends and food
May 29th, 2017 : Memorial Day
Honoring the men and women that who gave thier lives in service protecting our nation's freedom.
Parade Steps off at 9:30 AM from the front of the American Legion Post #376 at 17 S. Washinton Street, Oxford, NY.
National Anthem to be performed by the Blackhawk Marching Band.
Pageantry, Oxford Academy Band Music, Speeches, Wreath Laying, Gun Salute, "Taps".
Saturday October 2nd, 2017 Chicken Barbeque at the Legion parking lot
Friday, October 13th, 5-7 p.m. - Auxiliary's HARVEST DINNER, for the Finch Book & Education Fund . (2nd Friday)
November 11, 2017 11 AM Veterans Day Service
November 18th, 2017: The Post 376 Early Bird Dinner

This dinner is a reward for Post members who have paid their 2018 dues before 11/11/17. It has been on the 2nd Saturday of November, however, because that's Veterans Day this year, it will be on the 3rd Saturday, November 18, 2017. It will be the same popular menu as last year (NY Strip Steak, potato, tossed salad, Italian bread, and cake.) Cocktails: 3:30 - 4:30. Dinner: 4:30 - 6 PM.
December 16th, 2017 The American Legion Post #376 Christmas Party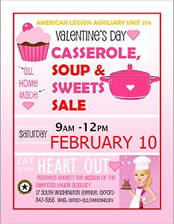 With Valentine's Day just around the corner, you need go no further than the Oxford Fort Hill Legion Post #376 to get heartwarming treats to celebrate the day. The American Legion Auxiliary (ALA) is offering a Valentine's Day Soup, Casserole and Bake sale on February 10, from 9 a.m. – 12 p.m. Come in and make delicious purchases while supporting the educational and charitable mission of the Oxford A.L. Auxiliary.