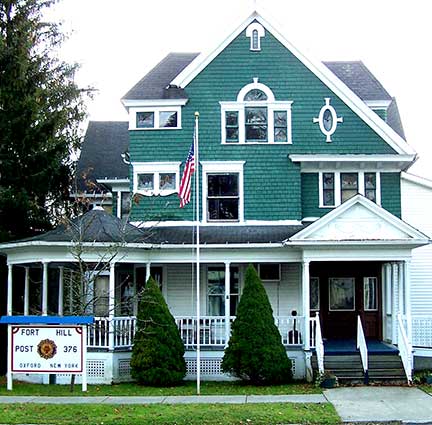 After the end of World War I, a group of sixteen veterans in Oxford, NY, decided to start their own chapter of the American Legion, the Fort Hill American Legion Post No. 376. They were granted their charter on September 30, 1919, shortly after the national American Legion was chartered and incorporated by Congress on March 19, 1919. They named it Fort Hill after a nearby historic area in the Village of Oxford said to have been built by Native Americans of the Tuscarora Nation which was one of the oldest fortifications in the east. This was the start of Post 376, a long enduring patriotic veterans organization devoted to mutual helpfulness.
Oxford American Legion Post 376 Memorial Day
2021 -  and we are still under restrictions imposed upon us by the same virus pandemic as in 2020. One unfortunate and obvious fact is another cancellation of the Oxford Memorial Day Parade.  So, again we are individually forced to remember the reason for Memorial Day and to recall how and why we celebrated in prior years.
As our great American scientific community and financial and industrial strength progress and fight through the pandemic, signs of normal life can be seen :
Activities in and around Oxford Post 376 are returning.  The always popular  Legion bar is now open daily from 2:30 PM to close. Covid restrictions are being eased and are subject to change and we are in compliance with the current regulations. The hall upstairs is again available to rent for various events. Call the bar during open hours for information.
Our famous Post 376 Sunday breakfast is in full swing.  We are happy to see so many regular attendees as well as some new faces at the tables and all having the usual good time.
Other on-going events include chicken BBQs, special take-out meals, cards, pool, shuffleboard leagues. Occasional raffles featuring golf or hunting equipment in season are featured.
These special opportunities are publicized locally in various newspapers, media  and posters.
Oxford Post 376 is fortunate to have a great American Legion Auxiliary group, and Sons of the American Legion.  Many hours donated by these two groups are a major part of our activities.  We all work together constantly and often as we share common goals.
A  GREAT BIG  "THANK YOU"  goes out to all members and workers. Although our 'normal celebration' of traditional American Holidays is not really back to 'normal' just yet, let each and all of us continue to celebrate in our own way and continue to work for the future of Post 376. 
Remember the RED WHITE & BLUE and remember those who gave their all. GOD BLESS AMERICA
---
From the Desk of Commander Darlene Ardron
MEMORIAL DAY 2021, Oxford, NY
To all of my officers, members and our people of the community:
Memorial Day is only a few weeks away, and again, there are no services at cemeteries and no Post 376 parade. It is a time when we need to give thanks to our wonderful veterans, who gave their time, their service and their lives so that we may live in a land of freedom. We all need to say a prayer for all of the families that have lost these veterans, and thank God for the peace in our world. I would like to thank ALL of you for supporting our American Legion, by coming to our take-out meals, or coming to enjoy our Sunday Breakfasts. Many thanks to our VOLUNTEERS, who every week give of their time to help us. You are all wonderful people. I am wishing you all Peace and Patience; and I am asking you always to Remember the RED, WHITE and BLUE.
God Bless You
Commander Darlene Ardron

Today, the Oxford American Legion Fort Hill Post #376 is part of the nation's largest veterans service organization. They are a member of the Chenango County American Legion, under the Department of New York. They are committed to mentoring and sponsorship of Oxford youth, community service in Oxford, upholding patriotism and honor, promoting a strong national security, and the continuation of the care of veterans. Please peruse our website and learn about our Post, how we fufill the mission, and how you can join the Fort Hill American Legion Post 376 of Oxford, NY.
The American Legion is a nonpartisan, not-for-profit organization with great political influence perpetuated by its grass-roots involvements in the legislation process. Legionnaires' sense of obligation to their community, state and nation drives an honest advocacy for veterans in Washington. The Legion stands not behind politics, but the issues and people that institute progress by focusing on veterans rights and quality of life.